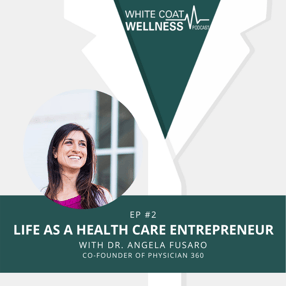 On this episode of White Coat Wellness, we welcome Dr. Angela Fusaro. Angela, originally from Connecticut, specializes in emergency medicine in Atlanta, Georgia. Angela's compelling story includes time spent in Guatemala and Indonesia. She has an MBA and was honored by Emory University last year as one of their 40 under 40.
Angela begins by detailing her unique path to becoming a doctor. (1:20) She then discusses why she chose emergency medicine as a specialty and how this choice has impacted her life as an entrepreneur. (4:47) Seeing doctors as subject matter experts, Angela outlines why she went to get her MBA. She then explores how important it was to her to help other doctors translate their clinical insight into innovative tools that could change the face of the health care industry. (8:31)
The episode then breaks for a bit of White Coat Wisdom with Will Koster where Will discusses simplifying your financial life. Will recommends simplifying cash flows by having one central account everything flows through.
Angela discusses her unique company, Physician 360, and why her ultimate goal is to empower patients. (15:14) Angela then discusses the highs and lows of entrepreneurship in the health care space. (20:12) Angela goes on to provide listeners with a few bits of advice she has gleaned along the way while launching her company. (25:30) Angela concludes the podcast by sharing some financial wellness tips that allowed her to launch a successful company. (30:43)
To get in touch with Angela or learn more about Physician 360, visit Physician360.com or DrAngelaFusaro.com. You can also connect with Angela on LinkedIn and Twitter.
This week's White Coat Achievement segment features Dr. Rita Starritt, an internist with over 20 years of private practice experience serving some of the most disenfranchised patients in both Colorado and California. Dr. Starritt helped establish Lifeline Hospice in Los Angeles and served on a medical team through Bless Back Worldwide that saw over 270 Nicaraguans in a weeks visit.
Links and Other Resources: