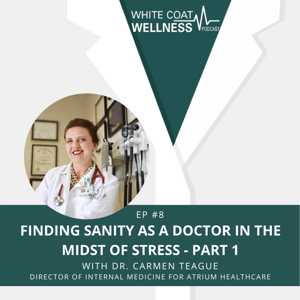 On Part One of this special two-part episode of White Coat Wellness, we welcome Dr. Carmen Teague, director of internal medicine for Atrium Healthcare. Dr. Teague is a dedicated wife and mother of four who became a published author of a wonderful book titled "Motherhood, Medicine, and Mayhem".
She also sits on the board of Bless Back Worldwide, an initiative to provide medical services, educational experiences, and economic development to developing countries.
First, Dr. Teague details her road to becoming a doctor and reveals that medicine was the last thing on her mind when thinking about what she wanted to do with her life. (2:00) After struggling with infertility that affected her life and medical career, Dr. Teague has four children (two daughters came by birth and two sons came by plane.)
The episode then breaks for a bit of White Coat Wisdom with Will Koster. In this episode, Will takes on the subject of physician mortgage programs. These programs are designed to be flexible to meet the unique needs of physicians, who often carry larger than normal debt loads and where training may hinder their ability to save for a down payment. SunTrust Physician Loan program offers 100% financing for homes up to $750,000 with no private mortgage insurance. These programs often come with a credit score requirement. If you are a physician in the market for a new home, you'll want to consider if a physician loan is right for you. (22:32)
Dr. Teague explores the moments she came to the realization that certain things in life were outside her control and how she learned to embrace the craziness of life. (26:28) Dr. Teague wraps up the episode by examining what wellness looks like for her. (30:08)
Apply for a life changing experience through a GOtoGROW Scholarship
If you would to join Dr. Teague's humanitarian efforts with Bless Back Worldwide, apply for a life changing experience through a GOtoGROW Scholarship. GOtoGROW is a partnership between Spaugh Dameron Tenny and Bless Back. Click HERE to apply.
For more with Dr. Carmen Teague listen to White Coat Wellness Episode 9. To find out more about Dr. Carmen Teague, visit her website carmen-teague.com.
This episode's White Coat Achievement highlights Dr. Amber Robins, a board certified family medicine doctor practicing in Arlington, Virginia. Dr. Robins is a published author who brought twenty other female physicians and dentists together to share their memoirs in a book titled The Chronicles of Women in White Coats. She is also the co-founder of the Women in White Coats blog and has written for various media outlets on women in the medical profession.
Links and Other Resources: