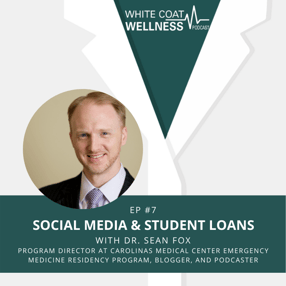 On this episode of White Coat Wellness, we welcome Dr. Sean Fox to discuss the broad topics of social media and student loans. Dr. Fox is a professor of emergency medicine, pediatrics, and is a part of the resident leadership team for the emergency medicine residency program at Carolinas Medical Center, part of the Atrium Healthcare network in Charlotte, North Carolina. In addition to his academic and clinical work, he also manages several educational websites geared toward the practice of emergency medicine.
Dr. Fox begins the episode by talking about how he has embraced the internet and collaborative media to serve colleagues and the medical community. (2:06) Dr. Fox then examines the importance of online professionalism and discusses his membership in online communities. (7:02) We then hear about the medical podcasts Dr. Fox is involved with. (15:28)
The episode then breaks for a bit of White Coat Wisdom with Will Koster. On this episode, Will takes on the subject of paying back student loans. Those not on an income-driven repayment plan or seeking public loan forgiveness could benefit from refinancing to get a lower rate. Spaugh Dameron Tenny partners with Common Bond to help doctors and dentists get the lowest refinance rates. Visit cbpartner.co/sdt to learn about these special rates. (18:17)
Dr. Fox explores what he likes best about his role as a resident leader in the emergency medicine residency program at Carolinas Medical Center. (20:13) Switching gears, Dr. Fox gets personal, as he discusses his own struggles with student loans. (23:41) Many medical students struggle with student loans and often have few sound resources to find answers. Dr. Fox then explores the possibility of medical schools providing education on financial issues, including student loans. (26:55) We then hear about the best financial decision he made for his family as well as his best tip for getting your finances in order. (32:08)
To learn more about Dr. Sean Fox, visit him on twitter @pedemmorsles. You can also follow his podcasting journey @emguidewire and @nextdoordocs.
This episode's White Coat Achievement highlights pediatrician Dr. Uchenna Umeh, and what she's doing to help fight youth depression and suicide. Dr. Umeh is the founder and CEO of Teen Alive, an online wellness resource dedicated to creating awareness for and fighting bullying, depression, and suicide in children, teens, and young adults. Dr. Umeh also started her own direct primary care practice to focus on high-risk children and teens and to change the stigma around depression.
Links and Other Resources: