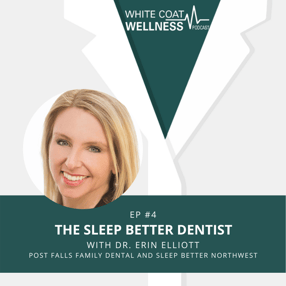 On this episode of White Coat Wellness, we welcome Dr. Erin Elliott. Dr. Elliott is a general dentist at Post Falls Family Dental in Post Falls, Idaho specializing in solutions for sleep apnea and snoring. Dr. Elliott is a graduate of Houghton College and Creighton University Dental School in Omaha, Nebraska.
Dr. Elliott begins the episode by describing her path to becoming a dentist and subsequently an owner of her current practice. (3:31) Dr. Elliott goes on to discuss how she developed a niche in sleep apnea and snoring solutions and how that passion led to YouTube success. (9:30)
People often associate sleep apnea with obesity. Dr. Elliott dispels that myth as she defines sleep apnea and describes the contributing factors. (13:13) Dr. Elliott discusses how treating sleep apnea changed her practice and how she developed her side practice, Sleep Better Northwest. (18:03)
The episode then breaks for a bit of White Coat Wisdom with Will Koster. On this episode, Will takes on the subject of deductibles.
After the break, Dr. Elliott discusses her involvement with the dentist training program, 3D Dentist, in Raleigh, NC. (23:00) Dr. Elliott wraps up the episode by describing what financial wellness means to her and outlining certain financial decisions she would have done differently. (30:20)
To get in touch with Dr. Elliott or to learn more about her work at Post Falls Family Dental visit their website www.postfallsfamilydental.com. You can also connect with Dr. Elliott on Facebook or email her at erinelliottdds@gmail.com.
The episode concludes with a White Coat Achievement segment that features Dr. Chris Durham, an oral and maxillofacial surgeon at the Oral Surgery Institute of the Carolinas. Dr. Durham has partnered with Guilford County Schools to recognize four teachers in the science, technology, engineering, and mathematics fields, making sure they have the tools they need to continue the great work they do. (35:48)