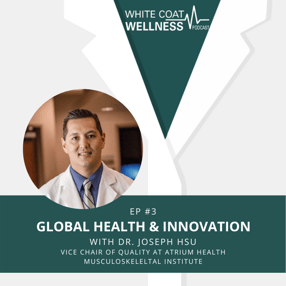 On this episode of White Coat Wellness, we welcome Dr. Joseph R. Hsu. Dr. Hsu is the Vice-Chair of Quality for the Atrium Health Musculoskeletal Institute, a professor of the Orthopedic Trauma Fellows program, and the director of the Limb Lengthening and Deformity service. Dr. Hsu served as a Lieutenant Colonel in the US Army. He deployed to Baghdad, Iraq in 2006, where he spent the majority of his military career trying to optimize outcomes for limb reconstruction patients. Dr. Hsu also focuses his research on opioid prescription safety and non-opioid strategies for pain management.
Dr. Hsu begins the episode by talking about his unique path to medicine through the military that took him from West Point to Charlotte with stops in New Orleans, Honduras, and Iraq. (1:36) Dr. Hsu then discusses the RESTORE program, an initiative he founded that builds sustainable surgical capabilities in resource-limited hospitals in Central America. (5:32) Dr. Hsu goes on to share unique stories from his time in Honduras and discusses the impact his time there has had on his practice in Charlotte. (12:44)
The episode then breaks for a bit of White Coat Wisdom with Will Koster. On this episode, Will takes on the subject of student loan debt. Will recommends developing strategies to deal with student loan debt to decrease stress.
As the second part of the episode begins, Dr. Hsu discusses what wellness means to him and how his work in Honduras makes him a better doctor. (20:24) Dr. Hsu then concludes the podcast by sharing some tips to support wellness and combat burnout at work. (23:19)
To get in touch with Dr. Hsu or learn more about his work at Atrium Health Musculoskeletal Institute, visit the website. You can also connect with Dr. Hsu on LinkedIn and Twitter.
The episode concludes with a White Coat Achievement segment that features Dr. Melissa Parsons and Dr. Alexandra Mannixco-founders of sheMD. sheMD is a virtual community of female physicians who discuss, discover, and delve into the adventures of women in medicine. sheMD has featured over 90 different authors in its first year, giving female doctors a voice to discuss gender disparities in medicine and to provide tools to overcome inequality.
Links and Other Resources: