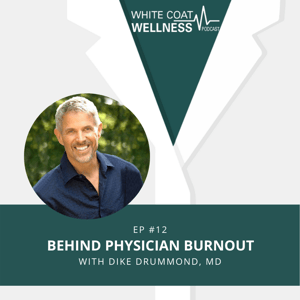 Have you ever had days when just opening the door to your office becomes physically painful to do so? Maybe you've had moments that, despite feeling genuine love and care towards your patients, you just are not in the mood to see them. Are you going through the motions and slowly losing the 'why' that has kept you going in your medical career?
If you've nodded your head in agreement as you read these questions, you may be among the many physicians who are part of the growing statistic of practitioners suffering from burnout.
Dr. Dike Drummond, who is a Mayo-trained family doctor, juggled various roles – full-service family doctor, physician leader to name a few – for decades before finally deciding to walk away from his medical career at the age of 40. The last straw for him was feeling like he was being choked the moment he stepped in his private practice office.
He is now the CEO and founder of HappyMD.com, an organization focused on addressing and preventing the burnout epidemic that is common among physicians worldwide. Among their projects is the Quadruple Aim Physician Leadership Retreat that teaches people to be wellness advocates for themselves and for others.
Dr. Drummond discusses what physician burnout looks like and the classic symptoms you have to watch out for. (12:40) These include physical and emotional exhaustion, compassion fatigue, losing the connection to your purpose, and energy levels being in a negative state. There are also a number of factors that can cause burnout, ranging from personal factors like the choice to become a doctor to the medical system itself. (25:45)
While this phenomenon has been studied in the past, only recently has it been recognized as a serious problem in the healthcare industry. (16:13) An interest in burnout has also spiked due to reported cases of digital overload caused by the adoption of Electronic Medical Records (EMR) in the workplace.
If not addressed as soon as possible, burnout can lead to many consequences that can affect not just the physician, but the patient itself – from medical errors to low care quality, to doctors turning to drugs and alcohol. The suicide risk among physicians is almost double than those of regular people, which is an alarming rate. (14:54)
The first step in facing burnout head on is to recognize what it is that you want as being doctors, you're somehow programmed to only do what is expected of you. (35:05) Then build strategies and solutions that can help shift your reality into that of what you desire as a medical practitioner.
Dr. Drummond also points out that burnouts are markers for important turning points in your life. (38:26) It's in that moment that you can choose to take matters into your own hands and lead your career into the direction that you've always wanted.
White Coat Wisdom
This week's White Coat Wisdom introduces the concept of paying for college, rather than saving up for it. Many people underestimate their ability to qualify for programs such as the Free Application for Federal Student Aid (FAFSA), not even attempting to apply because they feel they'll be denied right away. Shifting this perspective in terms of funding for college could make a huge difference especially in future student debts.
White Coat Achievement
It is also possible to be a full-time medical practitioner while pursuing your passions through side gigs. Anesthesiologist and entrepreneur Dr. Navin Goyal, who is being honored in this week's White Coat Achievements segment, shows you how it's done. He is co-founder and CEO of Loud Capital, a company that provides venture funds and supports small businesses across the country. They're currently holding a pitch competition for budding entrepreneurs who want to turn their business ideas into reality.