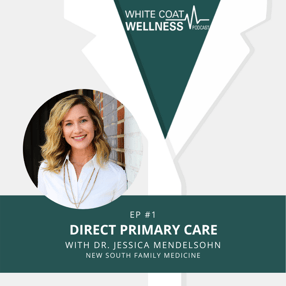 White Coat Wellness is a podcast for physicians and dentists that will educate, inspire, and encourage you to personal, professional, and financial wellness. White Coat Wellness is brought to you by Spaugh Dameron Tenny, a boutique financial planning firm that is fun-loving and specializes in comprehensive, holistic financial planning for physicians and dentists. Episodes feature discussions with physicians, dentists, and other partners in the medical and dental world to bring you one step closer to making the right decisions to achieve personal, professional, and financial wellness.
These discussions are explicitly tailored to doctors and dentists and include the importance of proper financial planning for medical and dental professionals, personal wealth management, investment management, personal retirement planning, early retirement planning, medical and dental student loan planning, working with a financial advisor, and more.
On the inaugural episode of White Coat Wellness, we welcome Dr. Jessica Mendelsohn. Jessica is board certified in family medicine and is the proud owner of New South Family Medicine in Fort Mill, South Carolina. Jessica starts the episode talking about the challenges the transition from education to the practice of medicine brings young doctors. (5:15) Jessica then talks about how starting a family impacted her work, shifted her priorities, and changed her career. (11:23)
The episode then breaks for a bit of White Coat Wisdom with Will Koster where Will discusses student loans and highlights the importance of choosing the right income-driven repayment option for you.
Jessica talks about opening a direct primary care practice after her second child was healthy after heart surgery. (20:52) The direct primary care model is a bit different from traditional practices in its setup. Jessica discusses the basics of what direct primary care is and what direct primary care practice looks like and the business aspect of owning a practice. (23:36) Jessica talks about how the direct primary care model appeals to a wide variety of patients and how the model frees her up to practice medicine the way she wants. (27:39)
Jessica then discusses how direct primary care practice and early discussions impacted her financial wellness and allowed her to provide for her patients. (30:09) Jessica wraps up the interview by telling listeners how important it is to surround yourself with people you trust and that you can turn to when you need advice (36:26).
To get in touch with Jessica or learn more about her practice, you can visit her practice, New South Family Medicine on the web at https://newsouthfamilymedicine.com
The episode concludes with a White Coat Achievement segment that features Dr. Nady Hamid, an orthopedic surgeon at OrthoCarolina in Charlotte, NC. Dr. Hamid is the lead investigator on a team that began a study on using existing medications and treatments to provide opioid-free recovery to their surgery patients.
Links mentioned in this episode: