Managing student loan debt can feel overwhelming, but it doesn't have to be!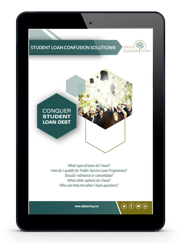 Compiled by our team of Student Loan Specialists, this guide outlines repayment options and the questions you need to ask to finalize your repayment plan. Questions like:
What type of loans do I have?

How do I qualify for Public Service Loan Forgiveness?

What other repayment options do I have?

Who can help me when I have questions?
Complete this form for your FREE guide and start tackling your student loan debt with confidence.