You need a financial plan for your fellowship from beginning to end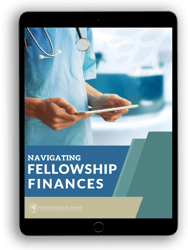 You've landed your dream fellowship and are one step closer to the beginning of your career and a higher income. But how is your cash flow looking right now?
You knew this was coming, but it may be hard to navigate. It's tempting to ignore that there's no balance on your balance sheet. But doing so will just add more stress as you watch your debt mount.
After reading this guide, you'll be able to:
Understand your financial next steps for each stage in the fellowship timeline
Effectively set the tone for your fellowship
Successfully review contracts and opportunities
Smoothly transition into practice
Ready to dive in? Fill out this form to get your free guide.